In our last post we talked about the use of candles in decor. Candles add a touch of romance to your wedding. How about if this touch of romance was married with tradition? Surinder Marbha, owner of "All About Henna" did exactly that, where she decorates candles with gorgeous henna patterns. What a beautiful fusion of romance and tradition!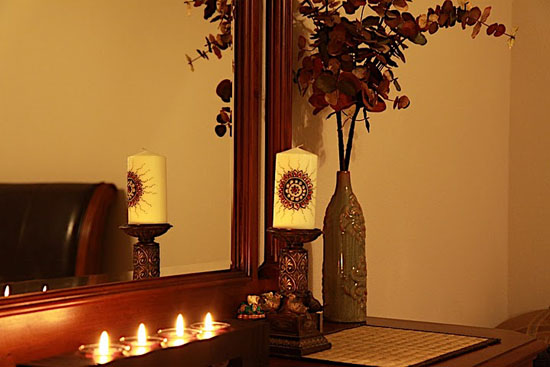 As a child, Surinder dabbled with many crafts. Surinder was inspired by the tradition of mehendi, when she saw her older sister getting henna applied on her hands. Surinder first started applying mehendi/henna as a hobby when she was five years old. When she moved to the US, she took it up again, where she started applying henna tattoos on people. With the encouragement of her friends, she started to take it more seriously. Surinder started experimenting with henna on different media like cloth/candles/candle holders/canvas/frames/boxes/pouches etc. Surinder exclaims, "World is my Canvas!"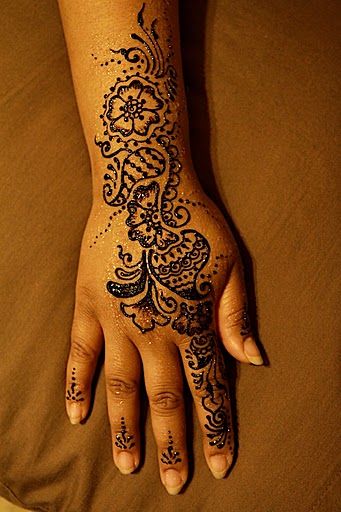 Surinder is all about henna! She loves its fragarance, design, and color. Over a year ago she started a business called "All About Henna" (based out of Dallas, TX), where she started applying henna tattoos, selling henna painted candles, paintings and boxes. Her friends affectionately call her "Rockstar of Mehendi"!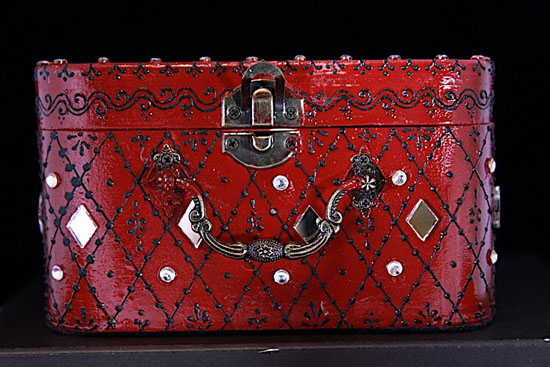 For candles, Surinder uses embellishments like jewels, rhinestones, paint, glitter glue, micro glitter, mirrors and Swarovski crystals on the henna patterns. She says that when the candle burns, it plays around with the jewels and glows. She also paints resuable candles and candle holders. Surinder's uses Arabic henna style in her work. Not only is it trendy, but very gorgeous. She uses flowers, vines, and a lot of dots and swirls. Arabic style has thicker edges with finer work inside and more contrast in color which gives it a bold look.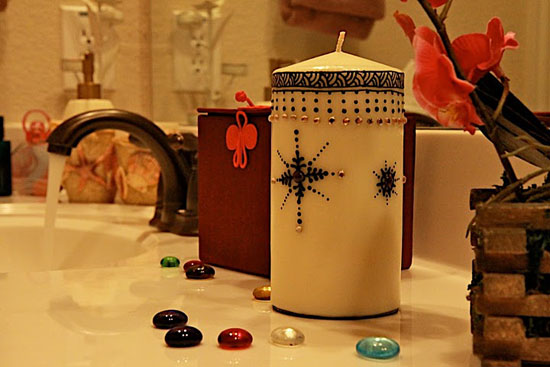 Surinder's exquisite candles can be used as centerpieces, and wedding favors. She also personalizes favors with pictures. Recently, she also started to do henna invitations and jewelry boxes. Currently, Surinder is custom designing the entire set of wedding favors order for an Indian Bride in Dallas. The order is an assortment of wax hurricane candles and are individually decorated with a combination of henna, gold paint, red paint, kundans, jewels and svawrovski crystals.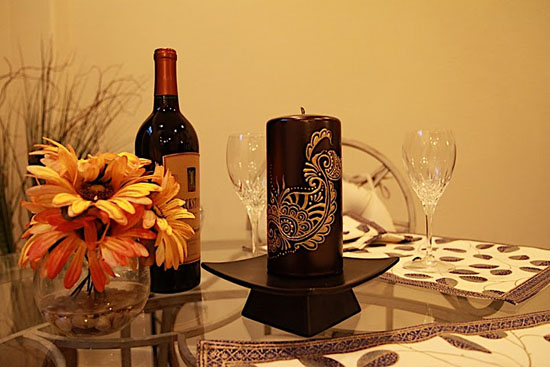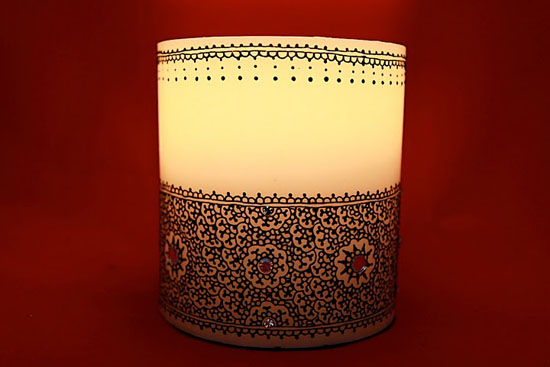 We are giving away one of Surinder's beautiful hand crafted candles. This hurricane candle is from her new line of flameless candles (operated by AA batteries) adorned with henna art and Swarovski crystals. This candle is inspired by the beautiful colors of spring, where she has incorporated flowers and leaves in the form of henna patterns on this flameless candle and added accents of stunning Swarovski crystals. The end product simply breath taking and will last forever! Its true elegance is seen in a dimly lit room when the warm glow of the flame reflects off the crystals on the surface, creating a mesmerizing hue in the room.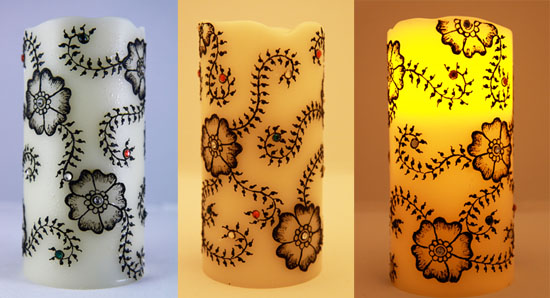 To enter the giveaway, please comment on this blog entry telling us why you like these candles. Don't forget to mention your email address when making the entry. For extra entries in the giveaway, become a fan of Marigold Events on facebook, follow us on twitter, tweet about it (don't forget to mention @marigoldevents) or blog about it. If you making extra entries, email us at neha@marigoldevents.com to let us know how many entries you made. The giveaway starts on May 17, 2010 and ends on May 23, 2010. We will announce the winner on May 24, 2010.
23 Responses to "All About Henna and Giveaway!"