Candles adds to the romantic ambience of your wedding. There are a number of ways to incorporate candles in your wedding:
Decorating along the aisle with candles secured in hurricane glass or lanterns
Adding taper or votive candelabras on the guest dinner tables
Creating or Dressing up the Reception centerpieces
Accenting the cake or guest book table
Using candles as unique wedding favors
Following are the different kinds of candles you can use in your wedding decor:
Pillar Candles: You can add a dramatic flair to a centerpiece by using pillar candles of varying heights. These are free-standing, thick, round, square or hexagonal columns, which can be plain or decorated. A great idea of using pillar candles could be to tie thick ribbon around the candle and use a bunch of these candles in varied heights, or use them in a secured hurricane glass, surrounded by flower petals. These make excellent centerpieces for guest tables or even sweet heart tables.
Votives: Votives are short round candles displayed in a cup or a votive holder that holds liquified wax residue. They come in many colors. Votive holders come in colored glass, crystal, wood, bamboo, stone and plastic. Hanging votives make a gorgeous centerpiece. Votives are usually hung on natural trees or metal trees, which is an adequate size for the tables. Votives can also be used to accent centerpieces or even as favors.
Tealights: Tealights are very small, short candles, customarily contained in a metal or plastic base. These, again, can be used to accent centerpieces or even on the placesettings as a decorative piece.
Lanterns: Moroccon style lanterns are very colorful and can add glamor to an Indian wedding. Candles, when placed inside the lantern, creates a great ambience. These can be hung on sheperd hooks along the aisle, or just placed on your reception guest tables to create a romantic atmosphere.
Floating Candles: Think about using tall cylindrical or square glass vases of varying heights and placing floating candles in them. These look gorgeous and are perfect centerpiece for a sweetheart table. Consider tinting the water with food coloring or adding glass pebbles, leaves, orchids, rocks, sparkeles or marbles to the water.
Tapers: Tall and thin, also known as dinner candles, can be placed on candelabras and placed on guest dinner tables.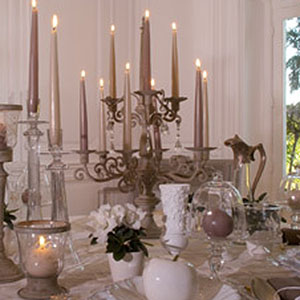 Gels:  Gel candles are soft and transparent candles which hold decorative wax items inside. These can make for unique favors or centerpiece accents.
Next week we will have another interesting post along with a really cool giveaway. Keep an eye out!
5 Responses to "Using Candles in your Wedding Decor"