For today's post, Marigold Events (ME) interviewed Graphic Designer, Carina Herman (CH), of the design studio Little Bird Creative. Little Bird Creative is a design studio dedicated to fashioning wistful stationary for weddings and events. Carina believes that stationary should emote personality and bring each occasion to life.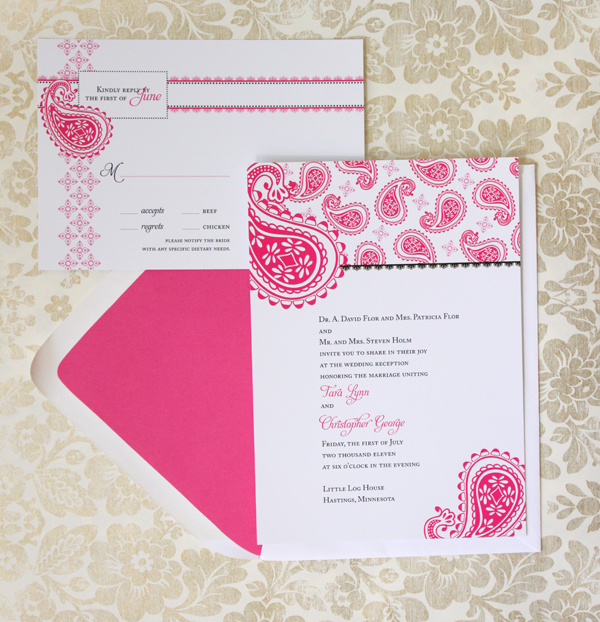 ME: I understand that you have an art, and graphic design background. Now, how did you get started designing your line of wedding invitations?
CH: Before I started to design wedding invitations, I worked as a graphic designer in the financial industry. The very nature of the industry I was in, limited the colors and designs to be very business like.
Following that I worked for Paper Source, where I worked with the clients' unique ideas, problem solve and come up with custom design elements for wedding invitations. When Paper Source discontinued its custom line of wedding invitations, I launched my own business focusing on wedding invitations, by the name of Little Bird Creative.
Different colors, themes, and ideas that go beyond the traditional, are very exciting. Moreover, I love the wedding industry, where couples are always happy and positive.
ME: What are your goals with Little Bird Creative?
CH: My goal is to provide unique paper products for weddings, that truly represents the couple. No matter what their budget is, every couple deserves something special. While offering custom designs, Little Bird Creative also offers a wide variety of printing processes and technologies. Moreover we stay true to the philosophy of giving everyone great design.
ME: What is your unique design style and what inspires it?
CH: I am inspired by architectural details and nature, where I love working with two extreme ends of spectrum: from clean, simple, and modern aesthetic, to a layered look with textures (like lattice).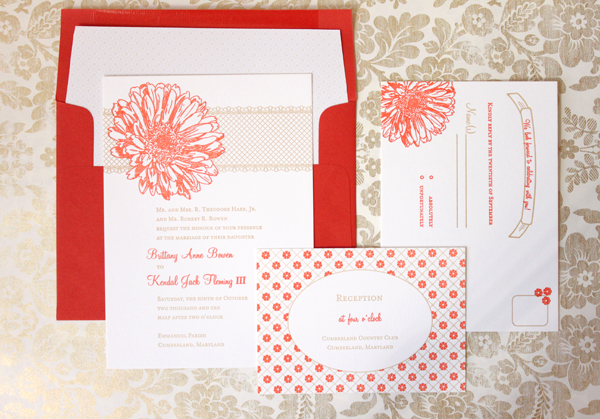 ME: What kind of paper and printing technologies do you like to work with?
CH: Paper depends on the printing method being used. Some of the invitation printing technologies that I work with are:
1. Letterpress: Creates a relief print by hand feeding each sheet to lay down one color of ink at a time. The hands-on nature of this process and attention to detail required makes it a high-end method.
2. Thermography: Uses powder over the wet ink giving a raised effect and adds dimensions to the graphics. You can use a maximum of two colors and the charges go up when you use two colors.
3. Flat Printing: This is the least expensive method of printing, but allows you to use more colors without increasing the price to much.
I really enjoy working with letterpress printing technology. My favorite paper is Crane's Lettra, which is specially engineered for letterpress printing. It is 100% cotton, softer and thicker, and hence, maximizing the letterpress impact and imprint.
ME: What kind of fonts do you like to work with?
CH: My font choices vary according to the project I am working on. If the invitation I am working on has damask or paisley graphics, then I try to balance them with strong and easy to read font. I still use calligraphic fonts for the couple's names, which marry well with the movement in graphics. My current favorite font is Aphrodite Swash, which has special ornate capitals and endings.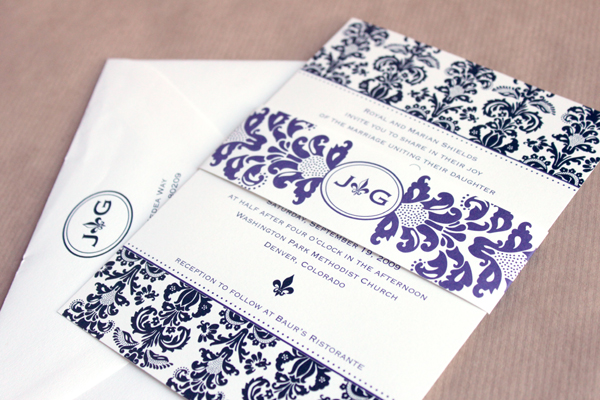 ME: Have you designed invitations for South Asian Brides before? What kind of themes, motifs, and colors do you use?
CH: Yes I have. For South Asian Wedding Invitations, I use very colorful and bold graphics along with floral elements, which make a big impact. Part of layering and color in a South Asian Wedding Invitation comes from the paper. The Western Style is to use white or cream paper, whereas the more Asian/Eastern Style is to use colored paper, which adds another dimension. The different reds, pinks, curry and gold colored papers look gorgeous. By adding a different colored paper you do not pay more for an extra color in printing.
While using exciting colored papers, and printing inks, I also use patterned envelope liners, to complement the design. The traditional layering of paper and adding gemstones to South Asian Wedding Invitations looks gorgeous. South Asian Brides can also experiment with stitching. Stitching a gold thread through the paper, would add a 3 Dimensional look to the invitation.
ME: What is your Wedding Invitation Design process?
CH: When designing custom wedding invitations, I ask brides to collect samples of elements that they like, and would like to incorporate in their wedding invitation. I use the bride's favorite elements and translate them into a graphic, which flows, but does not exactly mimic the elements. The invitation is the first indicator for what guests can expect during the celebration.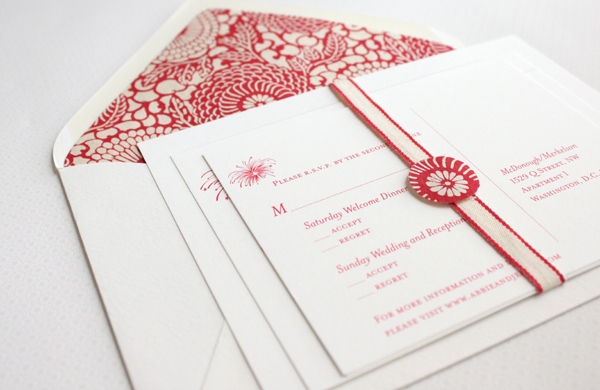 ME: What is the price range for your invitations?
CH: For a package of 100 invitations and RSVP cards, my design and production prices start from $300. Based on the kind of paper, printing technology, and customizations, the prices can vary greatly.
About Carina:
Carina Herman founded Little Bird Creative out of a love for unique graphic design and tactile paper goods of the highest quality which in the email and texting times seems to be fading away.
Under the Little Bird Creative name, Carina works intimately with clients to design the stationery to match the personality of each unique event. Currently based in Washington, DC metro area, she works one-on-one with clients. For those not in the area, she is happy to develop materials via telephone and email.
If you like what you see so far, Click 'Like' below to see more!
Author:
neha