Today we are featuring a guest blog post on Destination Weddings in Thailand by Kripa Singh, the COO of Élan Events by Nipunika.
Thailand, with its exotic islands, lush forests and cosmopolitan cities sis a leading destination wedding venue. Ten years ago marrying away from home usually meant eloping. The couple would steal away in the middle of the night and tie the knot in a perfunctory venue. Today, the idea has shed its stigma and a growing number of couples are steering the perception away from the traditional formal affair to a fun filled 3 days of celebration at a big fat destination wedding.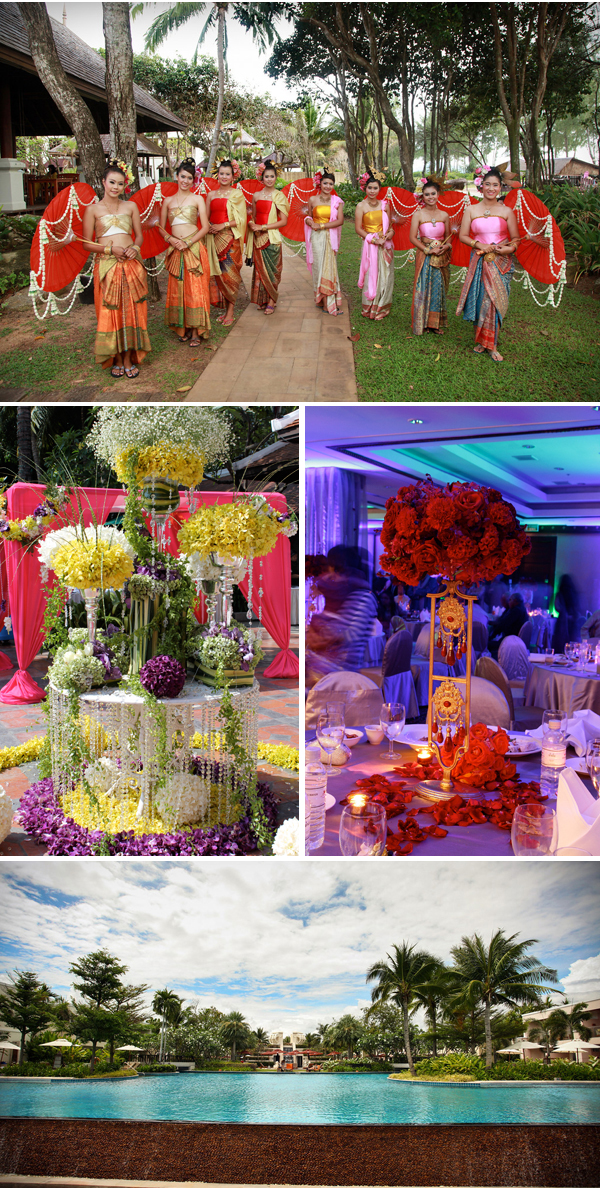 Here are Top 5 reasons why you would want to have your wedding in Thailand:
1. Luxury
From an intimate luxury boutique hotel on a secluded island to big contemporary resorts that cater to a large group, you'll find it here. The abundance of hotel options ensures that there is something for everyone. Surrounded by greenery, overlooking the ocean, facing the river or perched on a cliff, there are several options to choose from.
2. Value for money
While luxury comes at a cost, you get more value for your money in Thailand for the wedding venue, accommodations, food, and transportation. Thailand is known for its hospitality and you can expect impeccable service that is always given at a smile. Thailand definitely makes for a memorable destination for weddings.
3. The 'X' Factor
When is the next time you can steal the limelight and be the center of everyone's attention without feeling guilty? When is the next time you'll have an opportunity to have everyone you appreciate in your life, at the same place, at the same time? For-go the uptightness of a formal wedding where your mom's friend's brother's uncle is formally congratulating you. Not only you get to share the most memorable day of your life with an intimate group of friends and family, but you also get to enjoy a culturally rich venue.
4. Creating the décor 
While you are already surrounded by pristine beaches on an exotic island, the beauty of your wedding venue is enhanced by the magic of Thai workmanship. The majority of top florists who work around the globe are predominantly from Thailand. With innate creativity and access to a wide array of tropically grown flowers, they are capable of creating a floral fairytale for you.
5. Wine & Dine 
The best way to a true Indian's heart is through the stomach. With Michelin Stars, Irons Chefs, and an array of every cuisine to satisfy your palette, Thai chefs will create beautiful spreads, and scrumptious feasts for your guests.
Élan Events by Nipunika creates beautiful experiences and sets new trends for destination weddings across Thailand. A creative drive and an exuberant passion have made them a platinum standard for weddings and events in South East Asia. Nipunika & Kripa along with their highly professional team design plan weddings & celebratory events for clients from world over, including Hong Kong, the Middle East, India, Spain, United Kingdom, and United States.