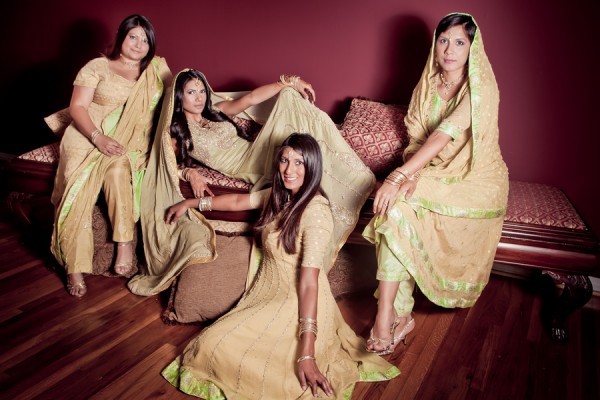 Today we are featuring a charming bridal photo shoot of Aisha and her bridesmaids. Aisha Khan, the gorgeous bride and creator of Ama Photography, got together for a super fun day with her three beautiful bridesmaids. She asked her most trusted second photographer from Revi Photography to capture the delightful day. The result, super stylish and lively photos of the bride and her girls.
When I asked Aisha about the photo shoot, she exclaimed, "These girls really are my best friends! In addition to sticking with me through thick and thin, as most families do, they are responsible, funny, creative, strong, smart, caring, outgoing, and empowering women. I wanted the shots to reflect our personality as a group. Needless to say, we had lots of fun!"
Aisha wanted the dresses to be elegant and simple. She designed the dresses herself, and got them custom made with her mother-in-law's help in Pakistan. I love the stylish sage green outfits, and how zardozi embroidery has been used sparingly, albeit tastefully. The very classic kundan jewelry are perfect accessories for this photo shoot. The Heights Villa makes for a wonderful venue and the props look super fun too!