Unique Wedding Planning Tools and Forum for Indian Brides
3 Comments
Advice, budget, cake, centerpieces, decor, inspirations, invitations, jewelry, Lehengas and Sherwanis, Planning Checklist, stationary, tips, wedding planning, Wedding Saris
Planning an Indian Wedding just got easier! When I was planning my wedding, I hunted and hunted for a wedding planning website for South Asians. I was looking for a resource, where the wedding planning tools and forums were customized for Indian brides. Well guess what – now that resource is here. It's called Indian American Weddings, and has been launched by Neha, owner of Marigold Events & Launching Frog (that's me!) and Payal, owner of Intell Marketing.
Indian American Weddings began as a vision aspiring to make an Indian Bride's wedding planning experience easy and enjoyable. The inspiration and ideas have stemmed from Payal and my personal experiences, when we were planning our own weddings and discovered a lack of planning resources for Indian Weddings in the US. We envision brides benefiting from a social network that would enable them to share thoughts and ideas with each other and communicate interactively with vendors.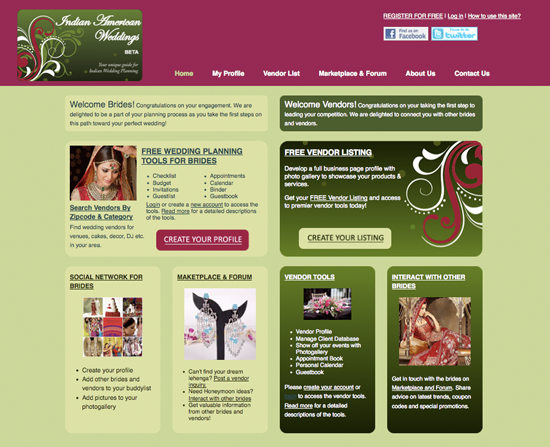 Indian American Weddings is a unique wedding planning community for engaged couples and their families. It is the first interactive site to enable brides to network with other brides and vendors all over the country. It is, in essence, a virtual wedding expo, where brides can virtually see vendors' products and services, communicate with them, and network with other brides – all without shelling the expenses of travel or time to a wedding expo.
In addition to the social networking aspect, the website offers to brides and couples all the tools and resources needed to help design, organize and plan the perfect unique Indian Wedding. The word "Indian" is the key – not only do we help you customize your planning to include all the Indian glamor and nuances of an Indian wedding ceremony, but we can also help you customize any other Indian event you may want to include like Engagement Party, Mehendi, Sangeet, etc.
Website's Highlights for brides:
Your Personal Profile Page with Photogallery: Create a detailed personalized profile of yourself and your upcoming wedding. Upload photos, and write about yourself. The wedding planning tools are linked to your profile. Your wedding planning research can be accessed by you through your username and secure password from any computer.
Planning Checklist: Manage your wedding planning tasks and track the important details so you don't miss a single step.
Create your Budget: Set up your wedding budget and track all your spending to keep your wedding expenses in line.
Create your Guestlist: It's a Guest Database! Manage Guests, input their addresses, track Guest info (invitations, RSVPs, gifts, seating, thank you's) – all with our Guest List Manager.
Appointment Book: A handy tool to record all your appointments and reminders so you are perfectly scheduled for each day of your wedding planning
Create Events and Invitations: Send out your save the dates for each of your wedding events with a click of the button and manage the RSVP's from here.
Planning Calendar: Your wedding planning is a calendar view and organizes all your appointments, upcoming events and due checklist items in one place.
Research Binder: Your Wedding Planning Notebook where you can save notes, links, images of products and services you are considering but haven't yet finalized.
Guestbook: Post on your buddies' walls and keep them up to date with your wedding planning. Post on a vendors wall to make inquiries or contacts.
Get advice from other brides on the forum: Network with other brides, share tips and ideas, post questions. It's amazing how much you can learn and share with others just like you.
Add buddies: Friend other members of the site and them to your buddylist. See where other brides are in their planning process. Look at the profiles of your bride and vendor friends, check out their photogallery and write on their guestbooks.
There is a plethora of Indian vendors offering products and services to meet the Indian wedding market needs, however, they have always competed with families traveling to India to fulfill these needs. To these vendors, we offer a revolutionary new channel to market their products and services to a targeted customer base and form affiliations with other vendors in the business.
Website's Highlights for Vendors:
Free Business Page and Listing: Design your personalized business page highlighting your products & services and offering exclusive promotions and sales.
Guestbook: Post on your buddies' walls and keep them up to date with your services.
Photogallery: A picture is worth a thousand words. Showcase your products and services with a collection of photos and images.
Appointment Book: A handy calendar with customer appointments and reminders so you are perfectly scheduled for each day.
Planning Calendar: View all your appointments in a calendar view.
Manage Clients: A client database that manages client names, profiles, addresses, interests.
Interact with other brides on forum: An Online vendor expo – interact with brides interested in your products and services. Make customer contact online!
The website has been beta launched, and we would really appreciate your feedback!