Welcome to #FashionFriday on Marigold Events! #FashionFriday posts feature Indian Fashion Designers, talking about how they got started in the industry, and their unique style. Continuing with our series of posts written by Gina Mathew, Founder of Couture Rani, today we will feature Indian Fashion Designer Tarun Tahiliani, and his claim to fame.
The Beginning
One of the undisputed greats of Indian fashion, designer Tarun Tahiliani began his career in management after earning a business degree from The Wharton School of the University of Pennsylvania. After returning to India, Tahiliani saw the potential of the evening wear and couture market and conceived of a fashion boutique to house the best design talents in India. In 1987 Tarun and his wife Sailaja Launched 'Ensemble,' the first of it's kind multi-brand boutique in Mumbai.  It was during this time that Tahiliani thought about launching his own design label. Although the designer had plenty of raw talent, he did not know how to sew or construct garments. In order to hone his technical knowledge and become proficient in these areas, he enrolled at the Fashion Institute of Technology in New York. Following his return to India from New York, Tahiliani founded his design studio and eponymous label in 1991 and set up base in New Delhi as he believed this was where fashion center would develop in India.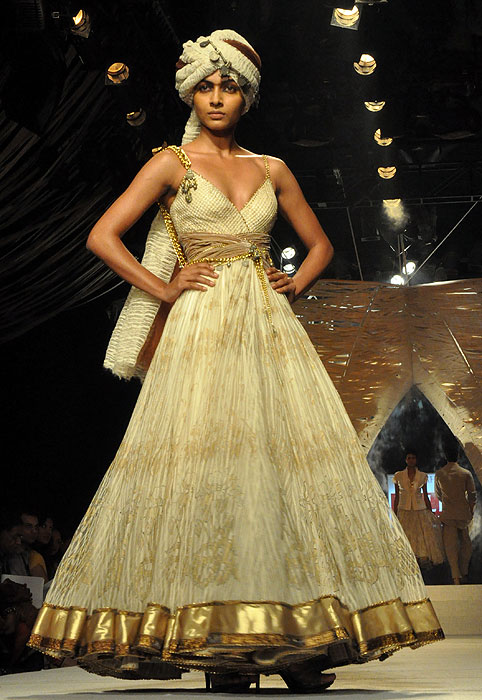 Fashion Firsts
Tahiliani had his first solo show at the Dorshester hotel in London in 1994. Shows then followed in Bombay, Delhi, Dubai, New York, Moscow and Hong Kong. In 2004, Tahilaini was the first Indian designer to be invited to show at Milan Fashion Week which provided a successful entry into Europe and the Middle East. He is also the first Indian designer to launch a watch collection under his own label, 'OTT by Timex,' a collection of jeweled watches produced in collaboration with Timex.
Signature Style
Tahiliani is known for the elegance, refinement and sophistication of his designs. While intrinsically Indian and made using Indian textiles, embroidery and embellishment techniques, the construction style and fit are very modern. Tahiliani was one of the first designers to introduce sleek sari gowns and bridal lehengas with softer, more fluid shapes into his collections.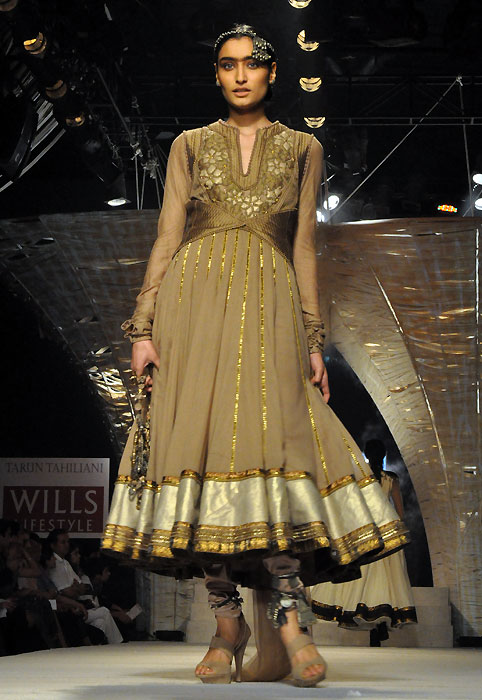 Celebrity Clientele
Tahiliani's impeccable craftsmanship and elegant style have created an immense fan following making him the go to designer for stylish brides around the world. His wedding ensembles have been worn by high profile brides like Jemima Khan, Shilpa Shetty, Elizabeth Hurley, Priya Chatwal, and Vanisha Mittal among others.
Tarun Tahiliani: Bridal Couture Exposition
Video Credit: Couture Rani
Image Credit: fashionfad.in
Check out our Facebook Page for more pictures from Tarun Tahiliani's Collection.