This week we are inviting entries from all our wonderful readers in the United States for a Wedding Invitation Inspiration Contest. We truly believe that your wedding invitation is the face of your wedding and sets the bar for what is in store. It is one of the many important details of your wedding.
Contest Prize
We are giving away a beautiful handcrafted Potli Bag by Belsi's Collection. The Raw Silk/ Satin bag is studded with precious stones and is hand embroidered with sequins and beads. (See Below)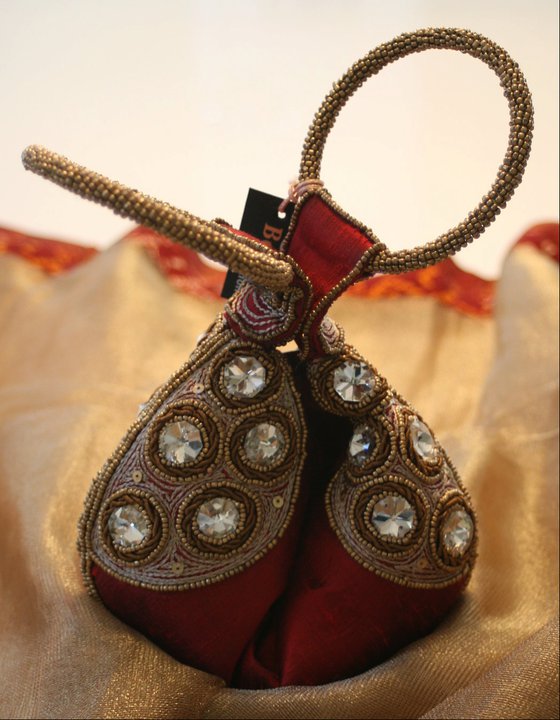 Contest Details
1. Send a picture of your wedding invitation inspiration at contest@marigoldevents.com with subject "Wedding Invitation Inspiration Contest" from August 13th through August 19th, 2012.
2. We will upload 7 of our favorite invitation photo entries on our facebook page on August 20th, when it opens to our facebook fans for voting.
3. Invitation photo that receives the most number of likes on facebook will be our winner.
4. Only one entry is permitted per contestant.
5. We are currently inviting entries from our readers only in the United States.
6. For more details on the contest fine print, click here.
Important Dates
Submit Photos from: August 12 – 19, 2012
Voting from: August 20 – August 26, 2012
Winner will be announced on: August 27, 2012
*Timings according to Eastern Standard Time (EST)
So what are you waiting for? Put your thinking caps on and submit a photo of your favorite wedding invitation inspiration to enter the contest.
About Belsi's Collection
Belsi's Collection is a perfect blend of costume jewelry for your wardrobe. A name that stands synonymous with beautiful, unique, stunning and contemporary design. A brand that lures every woman with its unique contemporary designs.
If you like what you see so far, Click 'Like' below to see more!
Author:
neha