Marigold Events interviewed Nazuk Aggarwal, who is a renowned Delhi-based jewelry designer and a gemology expert. We talked to her about latest trends in jewelry, the latest stone cuts, how to select an engagement ring and Nazuk's personal design style.
[ad#Google Adsense]
Latest Trends and Cuts
The lyrics from Carol Channing's song, "Diamonds are a girl's best friend", is perfect illustration of how Diamonds never go out of fashion. Nazuk says that Diamond jewelry is evergreen and is something that is always trendy. Elaborating on the current style of diamond jewelry, Nazuk said that many fancy shapes and cuts of diamonds, like Marquise (leaf shaped) and pear/tear drops are very much in.
The different cuts combined with colored diamonds is an upcoming trend. There are many to choose from: blue, yellow – which tend to be most common, and pink/purple – which tend to be very expensive. Colored diamonds can be natural, which are very expensive, and treated, which are more economical. Colored diamonds will definitely add an extra oomph to your piece of jewelry!
Then there are also colored sapphires, which are available in almost all the colors ranging from blue, orange, yellow, pink etc. Colored sapphires are cheaper than colored diamonds. Another option can be tourmaline, which are semi precious stones, and are an economical option. They are much more cheaper compared to colored diamonds, sapphires, rubies, and emeralds. These definitely add a great style and color to your diamond jewelry.
Nazuk mentioned that another way to make your jewelry stylish is to use carved emeralds, coral and turquoise along with diamonds. She says that flower shaped coral or turquoise or cabochon cut colored stones with diamonds (stone that is shaped and polished as opposed to faceted) look exquisite!
Check out these beautiful pair of turquoise (flower shaped) and diamond chandelier earrings with pear shaped Quartz drops, designed by Nazuk:
Nazuk says that chunky and bold jewelry is in. For your cocktail or engagement party you can wear a bold bracelet with chandelier earrings or a cocktail ring with a heavy necklace.
A few styles that are also in fashion today are Victorian style Jewelry (which was worn in Victorian era – half silver, half gold with flat diamonds) and Rose Cut Jewelry in open setting (where diamond is cut such that the top looks like a mountain).
For weddings, traditional jewelry, especially polki (uncut diamond) looks gorgeous! Polki jewelry is from Mughal Era and is very much in fashion. Many variations of polki are available. One such variation is polki combined with diamonds. It gives a very full look when worn on your wedding day. These days bigger size polki with designs around it is the latest trend. Matha Patti or Maang teeka with Jhoomar with a nice nath, haath phool, amulet, necklace and earrings/jhumkas make a beautiful set and looks absolutely stunning. Big polki rings worn on the thumb also look really nice. Polki jewelry can also be worn for Mehendi.
Check out the gorgeous polki sets that Aishwarya wore for Jodha Akbar:
If you are on a budget, then imitation polki and diamond jewelry is also available, which looks very nice too.
How to select an Engagement Ring
Nazuk says that the approach to select the engagement ring should be practical. Nazuk advises, "You don't want it to go out of fashion!" She mentioned that something that is going to be worn on a daily basis throughout your life, should be comfortable and elegant. Nazuk asserts, "It is advisable to buy a quality stone and certified pieces as they are a good investment."
So how do you select a quality and certified diamond?
Nazuk says that diamond certification provided by HRD, GIA, and IGI labs is recognized throughout. She specifically says not to get a jeweler's inhouse certification (as they don't hold any value) and insist on getting it by one of the labs listed.
Selecting a quality stone requires research. It is important to know the 4 C's of diamond:
Cut: Cut refers to the shape and proportions of diamond. The cutting of diamond and the finish determines it's brilliance and fire. The more number of facets a diamond has, more will be the brilliance it is going to have. Round cut is evergreen and has the maximum brilliance and fire, and hence, it is also the most expensive cut. Other well known cuts are: Oval, Princess, Heartshaped, Emerald or Step Cut, Asher Cut, Radiant Cut and Lily Cut.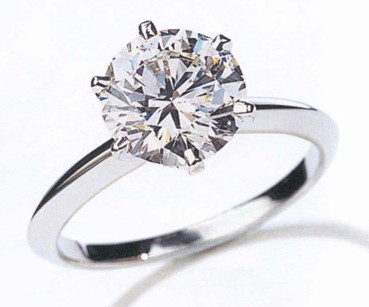 Clarity: Clarity refers to how free the stone is from inclusions or dark/black specks. On one end of the scale is flawless and on the lower end is included, where flawless is most expensive, and included is least expensive.
Color: Colors range from the letters D to Z, where D is colorless and most valuable.
Carat: 1 carat is equal to 100 equal parts or points. It weighs 200 metric grams. The price of diamond goes up exponentially with the carat weight. What that means is that the price of a 2 carat ring will not be double the cost of a 1 carat ring, but will be much more.
For a great tutorial and more details for selecting a diamond, click here.
A little bit about Nazuk and her style
Nazuk studied Jewelry Design and Manufacturing  from Jewellery Design and Technology Institute (JDTI), and Gemology from Gemological Institute of America (GIA). She is the founder and owner of Bijoux (New Delhi), where she hand selects the stones, designs and manufactures handcrafted fine diamond jewelry. She holds private exhibitions, and designs customized and classic jewelry according to her client's budget, tastes and the occasion. Nazuk's jewelry is contemporary, elegant, high end and fashionable, where she keeps global trends in mind. She primarily uses diamonds, along with colored and semi precious stones. To schedule an appointment with Nazuk, you can email her at nazukaggarwal@gmail.com.
If you like what you see so far, Click 'Like' below to see more!
Author:
neha
8 Responses to "Latest and Exclusive Trends in Indian Wedding Jewelry"